A Plus Exposes Kwabena Kwabena Over Claims NPP Didn't Pay Him
Veteran Ghanaian musician turned politician Kwame A Plus has exposed colleague singer Kwabena Kwabena.
READ ALSO: PHOTOS: MzVee Storms Internet With Hot Bikini
Recently Kwabena Kwabena revealed in an interview that he wasn't paid any money for his campaign song in did for the New Patriotic Party NPP in 2008.
CLICK TO DOWNLOAD THE OFFICIAL SIRKENN MEDIA APP }
Kwame A Plus, reacting to the news has debunked it and has exposed the Kwabena Kwabena.
According to him, the musician took over Ghc 100,000.00 from the song.
READ ALSO: LIVE STREAMING: Ghana vs Ivory Coast
A Plus said he took Kwabena Kwabena to Hon. Ken Ofori Atta and one Nana Poku at Data Bank, where he was paid Ghc 45,000 for the song. A Plus said the singer again benefitted from a Ghc 25,000 which was meant for a video shoot for the song.
A Plus added that Kwabena Kwabena received another Ghc 30,000 for the promotion of the song. All these were separate from the Ghc 2,000 he took each time the song was performed.
According to A Plus, Kwabena Kwabena performed the song for about 12 times which also totalled over Ghc 20,000 in payments.
See his main post;
READ ALSO: MrDrew Showers Praises On Sarkodie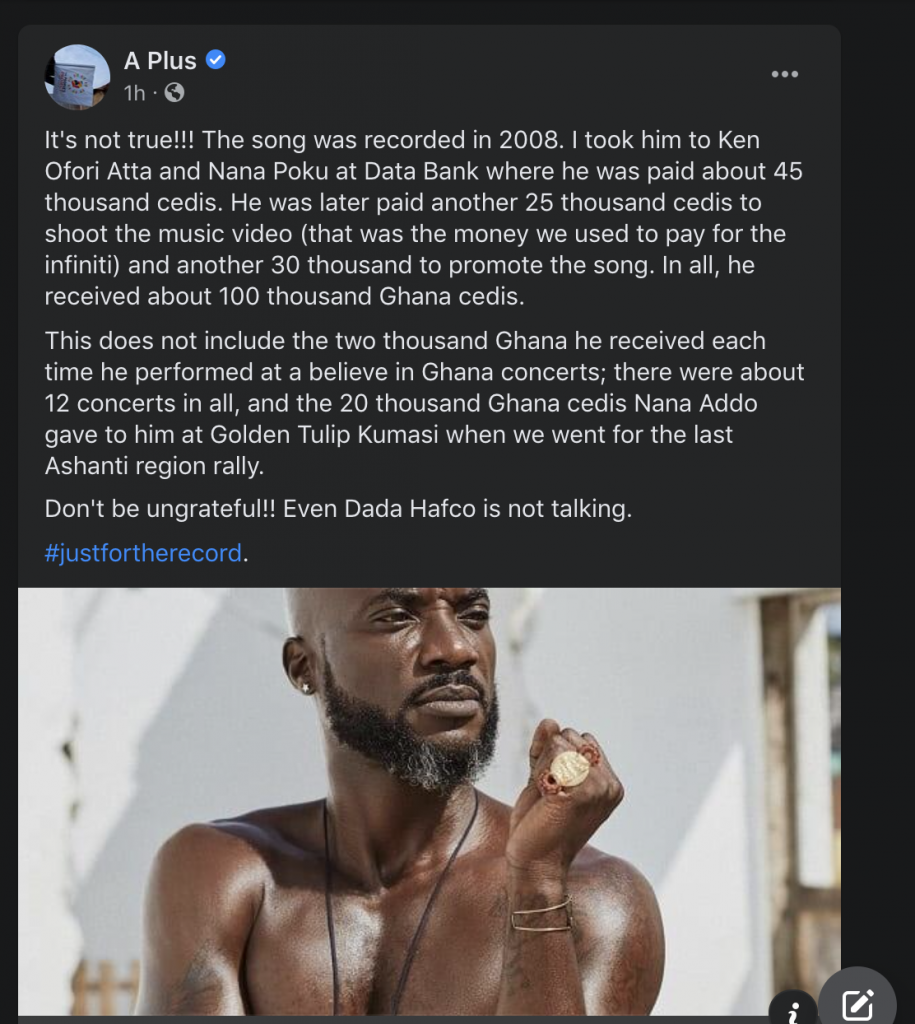 Do you have exclusive stories or sponsored articles, you want our cherished readers to know about? Get in touch via email bekoekenn@gmail.com, call or WhatsApp +233205315950.
Source: sirkenn.net